CASA DP,
Milan
RESIDENTIAL
YEAR      

2013
CLIENT    
PRIVATE
TEAM      
FB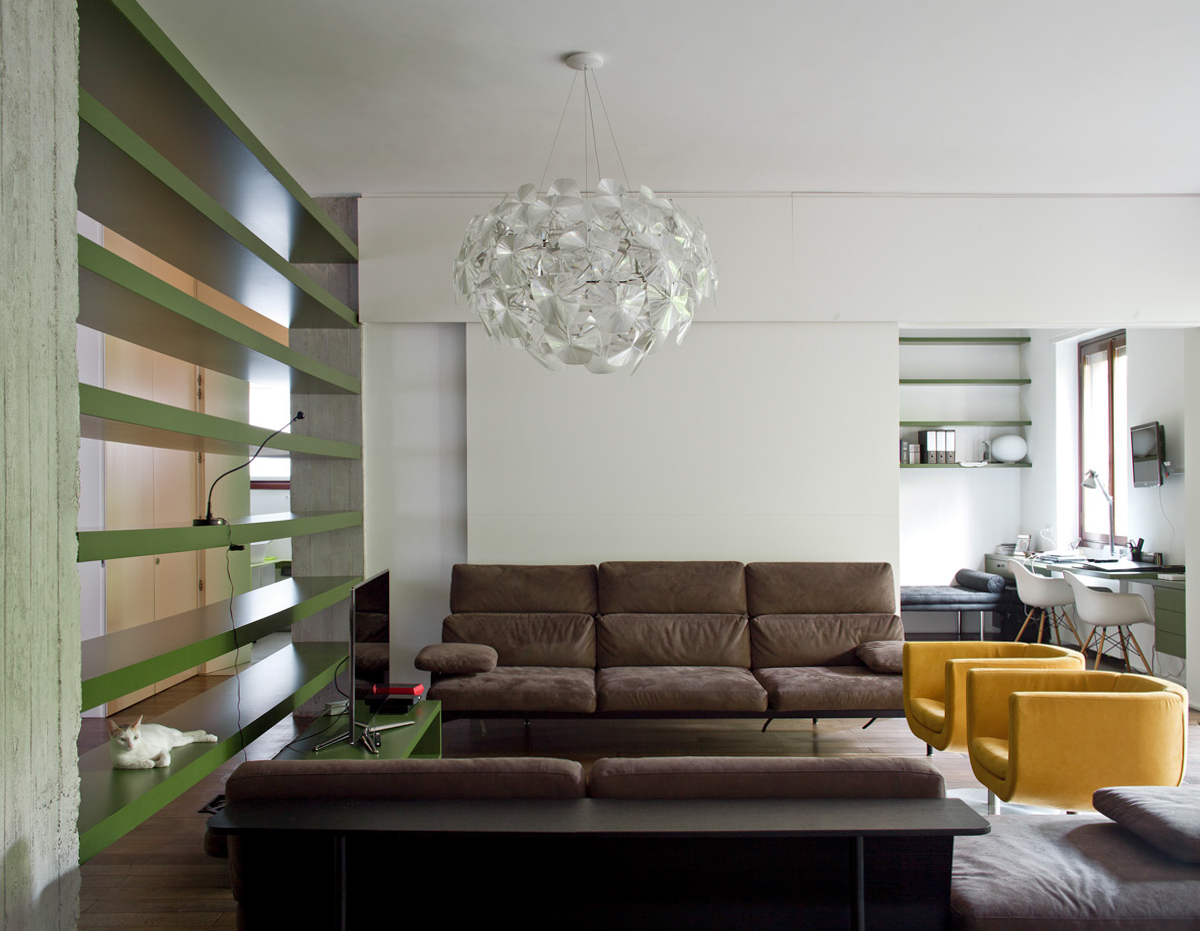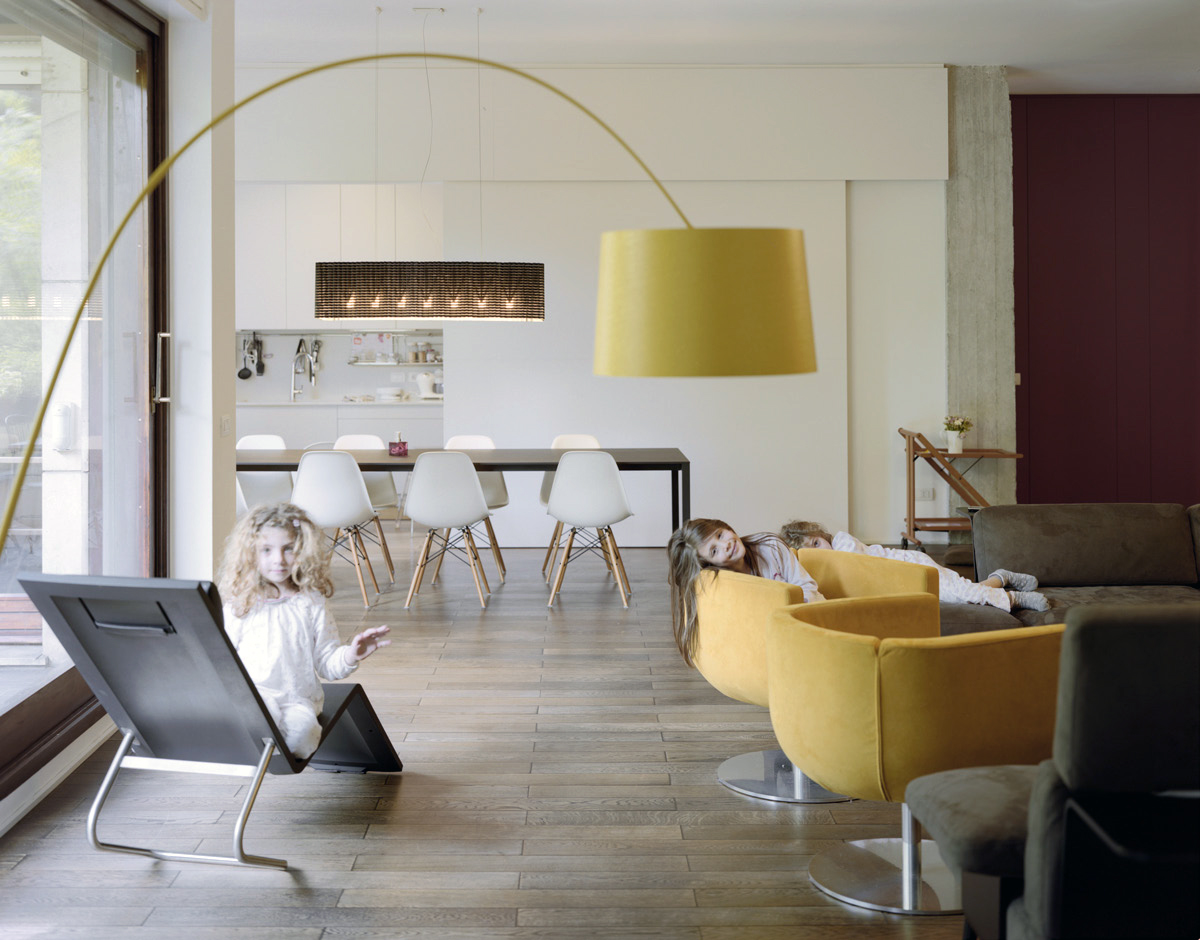 EN 
Casa DP is located in a prestigious building of the 1960s in the inner ring road of the Navigli canals in Milan. The access of the building is from a central artery characterized by the usual Milanese dynamism.
The DP house is located on the third floor of the internal part of the building and the windows overlook the two silent inner courtyards, in particular the south-west one hosts a beautiful garden, with a rich vegetation and leafy trees. Before the intervention, the space was used as offices served by a central corridor.
For the future life of the project would have been necessary in addition to the living space, four bedrooms, one double and two for each of the girls and the guest room for the grandparents.
We decided to break down all the walls and symbolically avoided reconstructing them.
The internal partitions, all in lacquered wood with closets and doors, divide the north side of the rooms from the south side characterized by the terrace and garden side, bright and completely connected with the living space.
The kitchen and the study, convertible into a guest room, can be easily closed thanks to the large sliding doors, but they can usually remain open, allowing to the main space to have always with a wide view, enjoyable right from the entrance.
The project is completed with the combination of colors and materials inspired by the architecture of Milan in the 60s, such as the building in question. Also the nature has been a reference that  in the center of Milan is so beautiful to enjoy as in the home thanks to the light and to the foliage always in motion.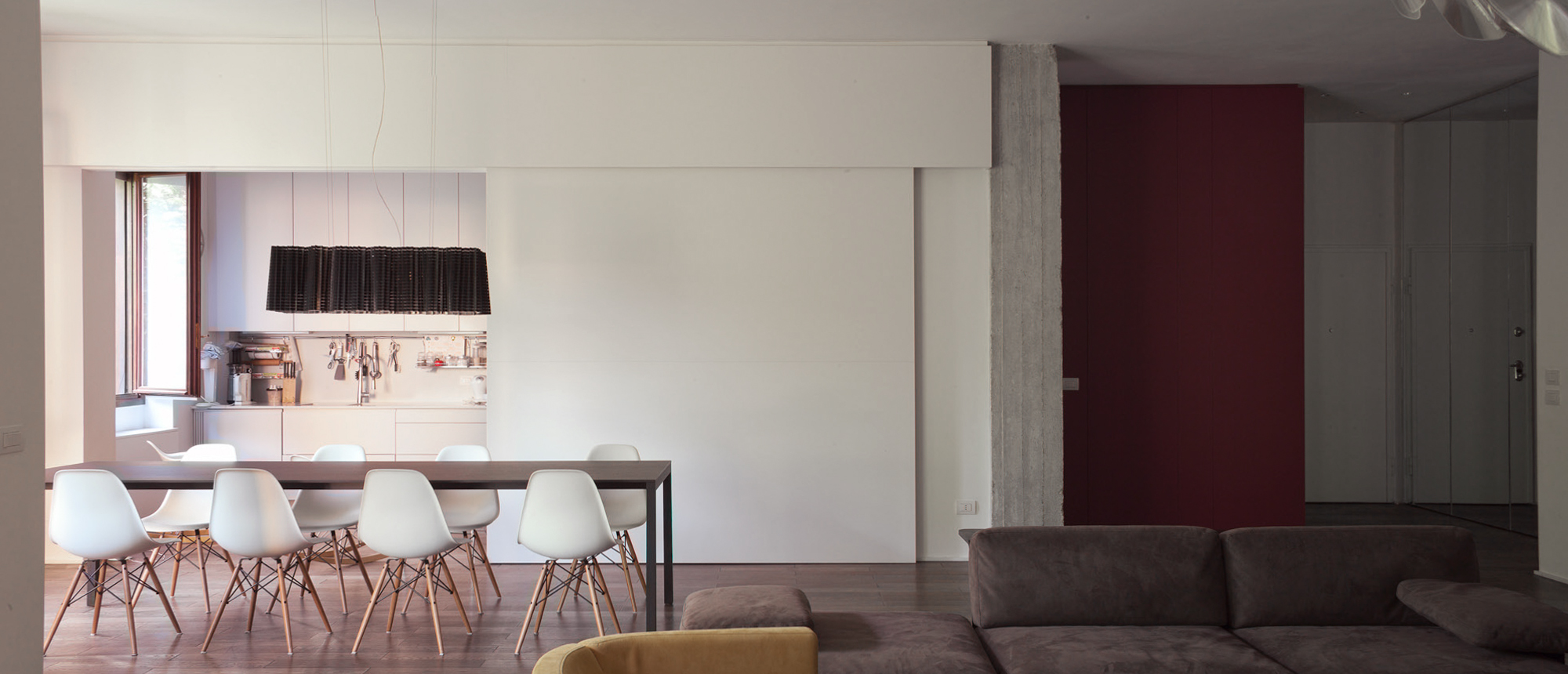 IT 
Casa DP, si trova in un prestigioso condominio anni 60 della circonvallazione interna dei navigli a Milano, si accede quindi all'immobile da un'arteria centrale caratterizzata dalla consueta dinamicità milanese.
Per la futura vita della casa, di progetto sarebbero state necessarie oltre allo spazio giorno, le camere, matrimoniale e due per ognuna delle bambine, oltre alla camera ospiti per i nonni. Abbiamo deciso di abbattere tutti i muri e simbolicamente evitato di ricostruirne. 
Le partizioni interne tutte in legno laccato con armadi e porte a scomparsa, dividono il lato nord delle camere dal lato sud, sul lato terrazzo e giardino, luminoso e completamento aperto sulla zona giorno.
La cucina e lo studio, facilmente trasformabile in camera ospiti, possono essere facilmente separati grazie ai grandi scorrevoli, ma abitualmente possono restare aperti, lasciando allo spazio principale un traguardo visivo sempre ampio, godibile fin dall'ingresso. 
Il progetto si completa con la combinazione poi dei colori e dei materiali ispirati alla architettura della Milano anni 60', come l'immobile in oggetto; ed alla natura, che anche in centro a Milano, è così bella da godere come in casa DP grazie alla luce ed alle cime degli alberi sempre in movimento.